mundane moments in a mundane life
.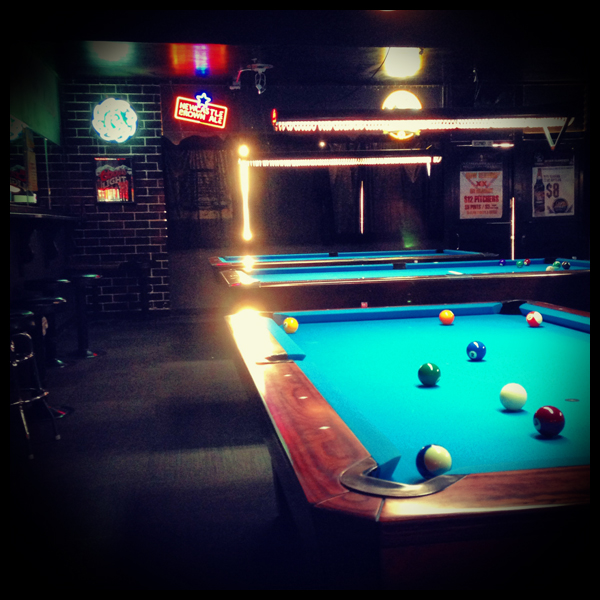 .
"I put you over there." The director grinned, and I felt like a middle-school kid again.
"Uh, thanks. I guess." The director obviously thought he was doing me a favor. I made a noise of exasperation and stomped off to my assigned table.
It was only natural the director thought I wanted to play on this table. It made sense. You wanted to be close to those you cared about. But a father, a mother, a son, a daughter—none of these applied to me, and I did not want to play next to my significant other.
This was the last money round and he had started out well. He was not expected to win—but he could. I put my cue together. He missed a ball and I flinched. His opponent ran out and evened the score. My opponent indicated he wanted to start. I flipped the coin halfheartedly and lost the first break. His opponent broke and ran to pull ahead. My opponent broke dry and left me an easy first shot. His opponent broke in three balls. I missed.
.
The last ball bolted toward the pocket and I closed my eyes. I heard it thud against the liner, grind its way deliberately through the undercarriage, and plop softly in the ball return. They shook hands quickly in silence, packed up, and left. My clockwork mind whirred to life. A shutter snicked open and I looked up at the score. I looked at the table and what my opponent had left me. I looked at my opponent, comfortable in his lead. Gears woke and revved efficiently. It was not too late.
.
I watched him as he watched his last opponent warming up for his next match. He held his case against the floor with one hand. I read his disappointment at himself in the way his shirt hung from his shoulders, in the tendons on the back of his hand, and most of all in the admirable neutrality of his face.
I had won my match and, yet, I felt the same about myself.
I knew better than to play the way I did.
It was a simple matter to fill the fissure in my armor with ice, weld it shut with fire, or suture the edges together with the heavy cables of my nerves. Truly, it was only a very small weakness and would be an easy fix. It would be such an easy fix I sometimes wondered why I put it aside so often to do another day.
"I was watching you," said a voice at my shoulder. The shutter flicked right and noted the source: a spectator. The shutter flicked left. "Girl, you almost lost that match!"
.

"Yup."
"You a slow starter in tournaments?"
"Must be."
"Shit, you gotta work on that! Bear down and concentrate, you know?"
"Hmm."
A brittle silence settled in. Finally aware of the invisible but very obvious wall between us, the spectator left, saying, "Well, good luck in your next match. And focus! You're still in the tournament and it's never too late to fix your game!"
"Right."
Not too late to fix my game.
I felt the machinery wind down, the well-oiled gears and hydraulics purring to a stop. I heard blood running. My hands warmed. I blinked. I was very tired. He turned, saw me, and smiled. He stepped back and put his arm around my waist. "I saw you got that match. Good job!"
I could fix my game.
I could fix it today.
I smiled and leaned against him.
I could fix it

—

some other time.
.